S
i
n
g
l
e
s
D
i
s
c
o
g
r
a
p
h
y
---
ATCO -AS DONNA WEISS- produced & arranged by John Hurley
year
label
number
side-A
(Matrix :69-C-17089-SP)
side-B
(Matrix :69-C-17092-SP)
1969
Jun.
Atco
45-
6688
I'm Only Human 3:15
(by Donna Terry Weiss)
Bonafide Love Me 3:19
(by John Hurley & Ronnie Wilkins)
ATCO -AS DONNA WEISS- produced by John Hurley
year
label
number
side-A
(Matrix :69-C-17090-SP)
side-B
(Matrix :69-C-17093-SP)
1969
Atco
unissued
?
(by ?)
?
(by ?)
ATCO -AS DONNA WEISS- produced by John Hurley
year
label
number
side-A
(Matrix :69-C-17094-SP)
side-B
(Matrix :69-C-17091-SP)
1970
Feb.
Atco
45-
6730
One Night A Week 2:56
(by Donna Terry Weiss & Carole Bayer )
That Kind Of Woman3:05
(by Donna Terry Weiss & Mary Unobsky)
---
NOTICE!!
That Donna Weiss (Donna Weiss-Hill) (below picture) is someone else, not This "Donna Terry Weiss"(famous for having composed
BETTY DAVIS EYES together with Jackie DeShanon)

"Donna Terry Weiss" is who write the lyrics fundamentally. (Lyrics composition is also carried out occasionally.)

"Donna Weiss-Hill" is blind singer & songwriter living in Auburn Township, Pennsylvania.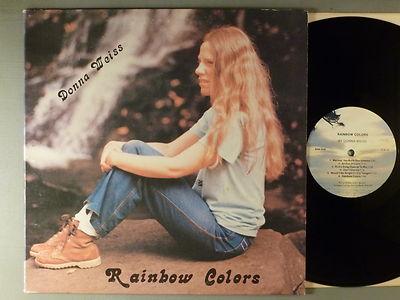 Donna Weiss-Hill "Rainbow Colors"
Strawlight Music SLM 101 USA 1983


---
Duan Allman Played guitar at Donna Weiss' recording session at Atlantic Recording Studios, New York, NY on Jan. 9, 1969. source

---
This content is still uncomplete !!
Please send me an E-mail if you have information about other "Donna Terry Weiss' Single"
and / or more details about the ones listed here.
---
Donna Terry Weiss' Songs / Donna Terry Weiss' Works /